Resonators are smaller diameter mufflers. They lack the volume of larger mufflers but fit in places where a full size muffler will not. Use them to help quiet down a loud system. Different lengths will affect different sound frequencies. These will help reduce droning on systems with just a single medium muffler at the rear.
Perforated core resonators do not affect flow at all. Louvered core resonators will flow about 5% less but do a better job at silencing things.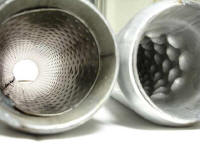 Perforated Core resonator on the left, Louvered Core Resonator on the right.