Improved cooling and heat capacity means less fade
StopTech has incorporated several design innovations to improve rotor airflow, cooling and heat capacity. The ability to absorb and dissipate heat is essential to brake system performance.
Benefits of Improved Airflow
Less fade
Longer rotor and pad life
Beter performance
STOPTECH AEROROTOR®
AeroRotors are made using StopTech's patented vane design and our proprietary cast iron formula, which was specified with durability in mind. StopTech has had several sets of rotors run entire 24 hour races on winning cars. StopTech did extensive testing before settling on our final top-secret formula. To test rotor durability, we rented the California Speedway and ran a heavily weighted down car with StopTech rotors on one side and a competitor's rotors on the other. In this test, StopTech rotors were approximately twice as durable as the competitive rotor.
The patented AeroRotor® features curved vanes with innovations on leading and trailing edges. The uniquely designed vanes inside the disc optimize airflow through the rotor. This improved directional design minimizes turbulence and flows more air than any rotor tested. The result is up to 80% better airflow over original equipment rotors and 10-30% better airflow than directional vaned racing rotors currently available.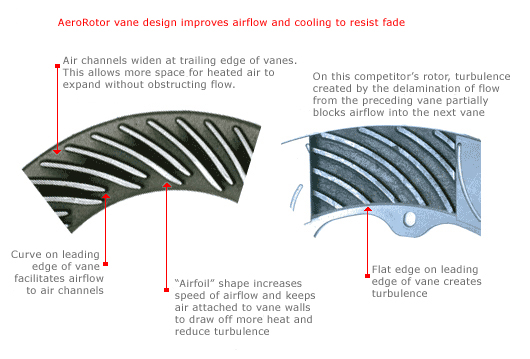 STOPTECH AEROHAT™
StopTech's hats and brackets are made with a special type of billet aluminum that was designed for the AeroSpace industry in the United States. The German TÜV were so impressed with the durability of these parts during testing that they replicated the bracket and repeated the test with a steel imitation of our part. The steel version failed early.
Hats and brackets are machined to ISO standards at StopTech's manufacturing facility in Torrance, California, using the latest CNC machines that feature active tooling.
Outer rotor faces run hotter. The patent pending AeroHat™ has directional stand offs between the rotor and mounting bell (hat) that increase airflow to the outside faces of the rotor by 50-100%. Increased airflow reduces the temperature difference between the inside and outside faces of the rotor resulting in less distortion and better performance compared to other fully floating designs. Outer pad wear is reduced. AeroHat™ improves entire brake system airflow by up to 4%.

The below chart shows that StopTech (top red line) has the highest induced airflow of any rotor tested. Leading aftermarket and original equipment rotors were tested for airflow from 30mph to 150mph. AeroRotor® dramatically outperformed all other rotors, with improvements from an impressive 11% to a staggering 80% increase in airflow (corrected to 20°C and sea level.)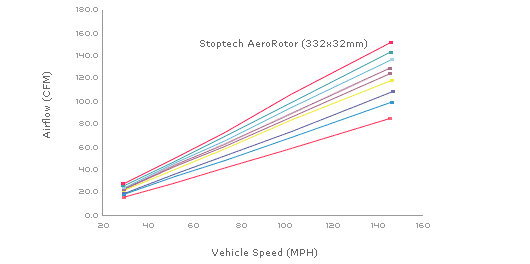 BETTER AIRFLOW MEANS BETTER COOLING AND LESS FADE