The AEM Water / Alcohol Injection Kit is universal by design and adapts to virtually any vehicle via multiple jets to suit your carís power requirements.
1 Gallon Kit $395
5 Gallon Kit $495
5 Gallon Tank Only $168

WHY YOU WANT ONE

AEMís Water / Alcohol Injection Kit reduces air inlet temperatures, which allows you to increase boost pressure and advance timing without having to run higher-octane fuel. Itís like getting to run 100+ octane gas for the price of Premium!

WHY YOU WANT AEM

AEMís Water / Alcohol Injection Kit includes all the features necessary to do water/alcohol injection right. No hidden costs or optional components are required. Unlike other popular kits on the market, we include a 1 gallon tank with a fluid level sensor standard. Also, because we think engine protection is a requirement, not an option, we include our Boost Safe output in every controller we design. This feature allows you to retard timing or reduce boost if the system runs out of fluid or detects an error. With the AEM Water / Alcohol Injection Kit, you get all the best features in one low priced kit.

HOW IT WORKS

Once installed, the Water / Alcohol Injection Kit uses a boost-dependent, variable-flow progressive controller to determine the amount of water / alcohol mixture (up to 50%) to feed into the inlet stream from the included one-gallon reservoir. The controller commands a progressive 150-PSI pump that delivers the mixture, and flow adjustments at the inlet are made via three included jets designed to match most engine power requirements. The result is significant horsepower gains using pump gasóat about half the cost of Racing Fuel.

OTHER COOL STUFF

You donít have to worry whether AEM has your application because the Water / Alcohol Injection Kit is designed to be universal for practically any vehicle. It includes everything you need to adapt it to your steed. Critical safety features are integrated into the system to virtually eliminate any chance of failure, including an integral fluid level sensor in the reservoir, a dash light to warn of low fluid level or error codes (including short circuits, battery voltage and more), and an additional output to either decrease ignition timing or boost if the system detects low fluid levels or a system error.


| | |
| --- | --- |
| | Universal kit includes everything you need for installation |
| | Boost Safe lets you retard the timing or reduce boost if the system runs out of fluid or detects an error |
| | Progressive, controller-driven 150-PSI pump provides boost-dependent variable flow |
| | One-gallon tank with integral fluid level sensor |
| | Dash light for system status and low fluid warning |
| | Alcohol Compatible (up to 50% in solution with water) |
| | Includes three jets to match your power requirement |
Optional 5 Gallon Tank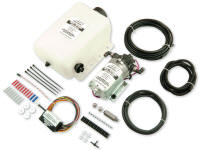 html User Manual, Instructions and more pics
.pdf User Manual, Instructions and more Pics