HKS's aluminized exhaust system provides up to 11 additional horsepower and a seat of the pants improvement in acceleration. Featuring mandrel bent 60mm pipes and a straight-through muffler, the HKS system simply bolts in place of the factory system after the converter. Finished in silver.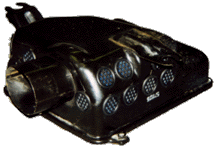 If additional protection from the elements is necessary, or if your budget just doesn't allow for the Super Power Flow, we have developed the Rally Box conversion. We start with an OE Mazda air box, drill 11 carefully spaced holes in the lower half, and add prefilters for extra protection. While the Rally Box does not have quite the same response down low, as the SPF, horsepower is improved by 6 as a result of the reduced inlet restriction. You can send us your air box to have it converted, or we can send you a complete box to exchange for your factory piece. The Rally Box is also easy to install.
Added to an OE or Rally Box, the reusable cotton/gauze K&N Filtercharger will further reduce the intake restrictions to the tune of 2 horsepower. The perfect addition to any Rally Box.
A cleaning/re-oiling kit is also available for proper maintenance of any K&N filter.


The GReddy B-Spec PRofec is the most affordable electronic boost controller on
the market today! It out performs the more expensive PRofec A so well that we no longer offer the A. It seems that all the "fuzzy logic" controllers are just that, FUZZY. They can be too smart for their own good. The PRofec B works equally well with internal and external wastegates. Features include a base boost setting and a high boost setting, providing two different boost levels at the touch of a button. The
small size of the control unit that mounts inside the car makes installation easy.
For those not quite willing to make the investment in the ultimate boost control, the MBC offers similar performance gains for far less money. This pneumatic valve relieves pressure normally sent directly to the actuator, thereby fooling the wastegate into thinking that there is less boost. It can be cockpit mounted, but it is not as precise.
Another method of fuel enrichment is adjusting the fuel pressure. With a given injector pulse width, raising the fuel pressure will supply more fuel to the combustion chamber. We have used regulators as the primary means of enrichment for both supercharger and turbocharger kits. While not as precise as electronically controlled enrichment, a regulator can be a suitable and less expensive means of adding fuel at elevated boost levels. Proper instrumentation is required for tuning.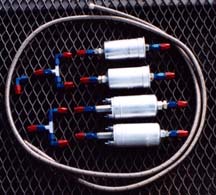 The stock fuel pump is adequate for supplying fuel for up to 15 to 16 psi of boost. Beyond that, we need to add a supplemental pump or replace the stock pump with a higher volume unit. Additional dead head pressure is not important, rather we need to supply additional volume for additional injectors or pressure for use with an adjustable regulator.
To complement any ignition upgrade or to replace worn wires, these NGK variable pitch wires are manufactured specifically for the 323's B6 turbo engine. They offer less resistance than OE wires, allowing more spark to travel to the plugs, where it can do the most good. They also feature a blue silicone jacket for excellent protection and long life.
Any time you attempt to extract more performance from any engine, especially one featuring forced induction, it's a good idea to replace the factory plugs with plugs one heat range colder. Colder plugs will retain less heat between combustion cycles, thereby reducing the tendency toward damaging detonation at elevated boost levels.
Our turbocharger upgrade is just that, an upgrade to the factory IHI turbocharger. By upgrading the compressor housing and wheel, air flow is increased while keeping shaft speeds at an acceptable level. The rest of the turbo is completely and professionally rebuilt, with new bearings and seals. This turbo can be purchased outright, or you can return your core to us for evaluation and possible core refund.
With the number of miles found on most GTXs these days, it is not uncommon to find a cracked or warped exhaust manifold. Our exhaust manifold kit includes all of the components necessary to replace the manifold: manifold, manifold to head gasket, turbo to manifold gasket, turbo outlet gasket, outlet to down pipe gasket, oil return gasket, oil return hose water banjo washers, and a new O2 sensor (the old one is often impossible to remove).

When the stock clutch finally gives up the ghost, it would be hard to do better than a Centerforce Dual Friction clutch. With two different compounds on the disk, and a stiffer pressure plate with centrifugal weights, the Dual Friction clutch provides up to 90% additional clamping force.
Other components that often sustain damage throughout years of operation are the GTX's CV boots. Our CV boot kits feature non-split boots, clamps and upgraded synthetic grease to help keep CV joints alive longer. Kits are available for front and rear CV joints.
We haven't come across a 323 yet that didn't need sway bar bushings. Our polyurethane bushings reduce deflection during transient maneuvers, allowing the sway bars to do their job more efficiently. The front bushing kit includes heavier gauge brackets with bushings and complete end links, while the rear kit contains OE brackets, upgraded bushings, and complete end links.
As mileage accumulates, bushings wear out. If your GTX is beginning to feel a bit sloppy, it may be due in whole or in part to worn control arm bushings. These competition bushings are a higher durometer rubber that reduce deflection under heavy load. Installation requires a hydraulic press.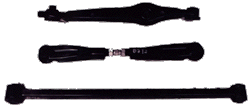 These competition rear suspension pieces can cure rear end instability at high speed and provide more control during hard cornering. All components feature high durometer rubber bushing material. Unlike the front control arms, separate bushings are not available for the rear suspension. Installation, however, does not require a hydraulic press.
While not a necessary modification on most street-driven 323s, the OE mounts can wear out under heavy duty use. If your 323 lives a life of rallies, auotcrosses and time trials, take a look at your factory mounts. These competition mounts are an absolute must for rally cars.

If your shifter moves and/or a lunge occurs just after you let off the throttle, it's quite likely you have worn motor mounts. Especially vulnerable to wear are the front engine mount and the transmission mount. Made from a higher durometer rubber, these competition motor mounts provide a much more solid platform for the engine and transmission, and are a must for cars used in competition. The 4 included mounts simply bolt in place of the factory mounts.
For street-driven 323s, it's hard to beat Repco pads for reducing braking distances, resisting fade and providing reasonable life. These are the pads we used front and rear on our PRO Rally 323 in '93 and '94.
If you need even more braking ability, consider carbon kevlar pads. The carbon kevlar compound's resistance to fade is truly impressive, and they feature built-in ceramic heat shield between backing plate and friction material. These pads are available in both street and competition compounds. Due to the time required to warm up the competition pads, they are recommended for racing use only.
To improve the feel of your brakes during high performance driving, install a set of our competition steel braided brake lines. By resisting flex common in standard rubber lines, braided lines provide a firmer pedal for more positive control under extreme conditions. Our lines come complete with all necessary fittings and are designed to work with the factory calipers. Like all other steel braided lines, these are NOT DOT approved, so they are intended for competition use only.
Motul's high temperature racing brake fluid is the final step toward improving braking performance. With a wet boiling point of 310*F and a dry boiling point of 585*F, braking performance will remain more consistent after repeated stops. We have Motul 600C available in 1/2 liter plastic bottles. One liter should be enough to replace the fluid currently in your 323 & have some on hand for later use.
GReddy's turbo timer features a red LED numeric display, two user defined time presets, and countdown of the time remaining activated. GReddy also offers a vehicle-specific wiring harness for the 323 for a simple plug-in installation. Dimensions of the turbo timer are 3. 25W x 3. 5D x . 75H.
Any time you begin to upgrade the performance of your 323, it's a good idea to include in your budget some high quality gauges. Most critical when raising boost pressure are a boost gauge, exhaust gas temperature gauge and fuel pressure gauge. For rallying, add to that an accurate water temperature, oil temperature and oil pressure gauge to keep an eye on the critical systems on your vehicle.
We currently offer gauges and instruments from GReddy. Check out the price list for a current selection.
This comprehensive service manual details nearly every service operation possible to a 323 GTX, and includes numerous detailed line drawings illustrating service procedures. It is a must for the do-it-yourselfer. We also offer a separate manual detailing how to retrieve and analyze check engine codes.
If you're one of those people who looks for the seat belt at the movie theater, then you'll appreciate the added security and safety of Schroth street-legal harness belts. Also consider the added control of being securely planted in the seat.
Schroth manufactures the world's most advanced harnesses, as demonstrated by their top of the line street belt, the AutoControl. The AutoControl features a four point harness with an electronically actuated inertia reel. Just like a stock seat belt, the AutoControl enables you to move to adjust climate controls, etc. until enough force is sensed to lock the reel in place. Call for more information on the entire Schroth line of street legal and competition harness belts.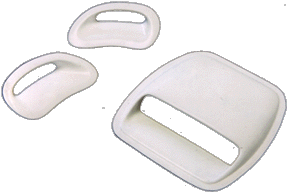 These are the same vents used on our PRO Rally 323 to keep the engine from melting around the subframe during desert rallies. They accomplish this by providing air that enters through the grill a means of escape through the hood and over the windshield. These vents are sold in matching pairs and are delivered finished in an unpainted gel coat. They attach by means of a combination of bolts on the underside of the vent, and epoxy. Included with every order are templates and installation tips.
Speaking of engine cooling, not much of it can be accomplished without the radiator. And most of the radiators we've seen are in need of help, especially when it comes to the top mounts. Our top mount kit contains the necessary parts to replace worn or non-existent mounts with new ones.
RedLine motor oils and gear oils provide a significantly lower coefficient of friction than other commercially available petroleum and synthetic lubricants of their type. They also provide a significant reduction in wear under normal operating conditions, and perform even better under extreme pressure. Red Line lubricants are unique because they contain polyol ester base stocks, providing unequaled high-temperature stability - a necessity for proper lubrication of a turbocharger or hot-running engine.
RedLine offers several weights, but we've stuck with the 20W50 for the 1. 6liter B6 turbo engine. For winter use in colder climates, you might consider 5W30. You'll need at least 4 quarts to change the oil in the GTX.
For the gearbox we recommend RedLine MTL in street-driven vehicles, and 75W90 synthetic gear oil (for extra protection) in the rally transmissions. It will also improve any balkiness your tranny has when cold. The gearbox capacity is 3. 8 quarts. For the transfer case and rear differential, we use the 75W90 - the transfer case takes . 5 quart and the rear diff needs . 7 quart.
To aid the engine cooling process, Red Line Water Wetter really works. By reducing the surface tension of water, Water Wetter improves heat transfer through the radiator.
Red Line CV-2 grease is included in our CV boot kits for a reason. It resists break down under extreme temperatures and reduces friction wherever it's used.
Red Line SI injector cleaner should be used once every couple of months to keep injectors clean and free from deposits. SI injector cleaner is available in multi-use size bottles.

When flying down a pitch black cliffside road you've never seen before at 10/10ths, you can't have enough properly aimed and steady light. Our light pod is one way to be sure the lights go on the same way each time, as the pod is installed and removed as a single unit. Consequently, your careful light aiming stays intact from one night rally to the next.
In addition, a light pod makes costly lights less vulnerable to "stuffs" into embankments by raising them well above the bumper. This also prevents the lights from hindering engine and intercooler cooling. Another benefit from using our light pod is not having to purchase complete lamp assemblies. Instead, you only need individual lenses and bulbs to outfit the pod. Besides, they look really cool and impress members of the opposite sex.
The Road/Race light pod and accompanying lens mounting hardware are designed for PIAA 7" 80 Pro lenses, but could be adapted to fit lights from a different manufacturer. Mounting the light pod on your 323 can be accomplished several different ways. We use a wide aluminum tab to slide over the leading edge of the hood at the front, and three studs that stick through holes in the hood at the back. This setup has proven sturdy and steady, even mounted on a hood with all of the reinforcements removed. Please phone to discuss alternate mounting strategies.
To equip your light pod, PIAA's 80 Series rally lenses are hard to beat. Featuring a super tough and carefully fluted lens, large 7" reflector and accepting H4 Hi/Lo bulbs, the PIAA 80 offers excellent flexibility. Driving, spot, fog, and pencil beams are available to provide you with a combination of beam patterns to suit almost any visibility condition.
Plus, with H4 bulbs, you can switch between high and low beams and choose from a number of different bulbs, including those with PIAA's ion crystal technology, which emit a glare-resistant yellow light without compromising candle power. So the next time you're eating dust or blasting through fog, you don't need to kill the lights, just lower the beam angle for less reflection.
You can't lose these hood pins. Perfect for rallying, where it would be difficult to go looking for loose pins on the ground.
Improve air flow to and from the cylinder head with ExtrudeHoned intake and exhaust manifolds. The ExtrudeHoning process forces an abrasive material through the manifold, removing an even amount of material and polishing the surface. This promotes less turbulent air flow for improved response and horsepower. Ideal for use with a competition cylinder head and larger turbo.
---
General Help and Information
Side Skirts/Rear Wings
The few side skirts we had are now long gone, and we never had our hands on any spare rear wings. Apparently, non-GTXers are running around the countryside scooping up any available, and some that aren't - watch out for GTX-wannabe thieves!
Removing the #2 Spark Plug Wire
The #2 spark plug wire can be difficult to remove because it is located under the air intake pipe passing over the cam covers. A simple way to remove it is to disconnect the #2 wire at the distributor. Slide the wire in its keepers while rotating the plug end counter clockwise 90*. By providing enough slack, you can now take off the plug end of the wire without removing the intake pipe.
Turbocharger Care & Maintenance
You should periodically check the turbocharger oil drain passage and pipe for carbonized (burnt) oil. This is also a useful check for evaluating a potential used turbo car purchase. To check, unbolt the two 10mm bolts and inspect inside the bottom of the turbocharger oil drain and check the drain hose for any blockage. Replace the hose if necessary, as it may be brittle from heat and age.
Allowing the engine to idle for a period of time after driving (especially spirited driving) will help prevent this condition from occurring. Of course, a turbo timer is a big help in this regard.
To check turbo bearing wear, remove the turbo inlet J pipe. With your finger, check for excessive play in the impeller wheel. It should have some play, as the full floating bearing is centered by oil pressure, but the wheel should not touch the housing at any point. The shaft should turn freely and without noise. If your turbo fails any of these tests, it should be rebuilt or replaced (or upgraded!)
What Are All Those Connectors?
If you take a look under the hood of your 323, you're likely to see a few connectors dangling in mid-air, even if you have a fully optioned vehicle. Don't worry, you're not missing any parts.
The yellow double terminal connector on the fire wall under the windshield wiper motor is for running the fuel pump during testing procedures. Connecting a jumper wire between these two terminals when the ignition switch is turned on will run the fuel pump. Be mindful of fire whenever testing the fuel system.
The six terminal green connector to the left is for a factory service diagnostic tool. The single green connector on the fire wall is for operating the on-board diagnostic system (check engine light). We sell a diagnostic manual (with jumper wire) to help you self-diagnose your GTX.
The white single terminal on the wiring harness that connects to the ignition coil is a tachometer lead for either diagnostic use or for adding a secondary tachometer.
Wheel Hubs & Bearings
There are several precautions to take when replacing wheel bearings or hubs. Front wheel bearing pre-load adjustment is set by spacers. When replacing wheel bearings wear is often noticed on the wheel hubs. They become pounded so much that the bearing no longer presses onto the hub tightly. When this happens, the hub may fail (this is a bad thing).
If you replace just the bearing, the same size spacer may be used while still retaining the proper adjustment. When both hub and bearings are replaced, different size (there are 21 different sizes) spacers are usually needed. These are special order parts and usually end up coming from all across the country. Consequently, expect to have your GTX parked for a while!
Wheel Lug Nut Torque
Whenever you re-attach the wheels, be sure to torque the lug nuts to the proper specification to prevent accidental loss of the lug nuts or thread damage. GTX lug nuts should be torqued to 80ft lbs using a calibrated torque wrench.