The Mazda Suitcase Car
The Mazda Suitcase car was originally designed and built in 1991 as part of a design contest held at Mazda's Engineering department. One of the engineers had an idea. What if you could get off a plane, get your luggage, and instead of waiting in line for a taxi or shuttle... pop open your suitcase and drive off ?
You may have seen this on Beyond 2000, The Discovery Channel, Inside Edition, The Oprah Winfey Show, Telemundo, Popular Science Magazine Ripley's Believe It Or Not! Most recently it was featured on an episode of Junk Yard Wars on the Discovery Channel.
Originally built by Mazda Motors Japan, it is maintained by Road/Race Engineering in Santa Fe Springs, California.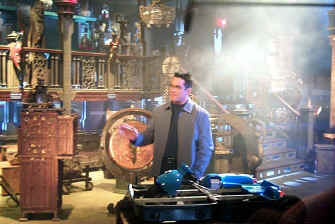 .wav file of the introduction on Ripley's Believe It Or Not!
Click on any image for a full size view.
| | |
| --- | --- |
| | The original Mazda Suitcase car from Japan. Since it was to be presented to Mazda USA, it was painted a red, white and blue paint scheme. |
| | Shown here at speed (up to 27 mph) driven by Mazda's PR chief at the time Mitch McCullough. This leads to the biggest problem with the suitcase car, it is way too much fun. If it is left unattended for any amount of time, grown men revert to adolescents and trouble ensues. The red suitcase was destroyed in a parking lot accident a few months after this photo was taken. |
Shown here after the 1994 rebody.

The circular cutout in the side of the suitcase removes to allow the front wheel to be folded out.

The suitcase shown unfolded.

To assemble:
Slide the locking rails to lock the two halves together
Pop both rear wheels into their drive sockets
Fold up front wheel and lock handle bars into place
Place the seat into position
Start the motor and go!


Head lights light the way at night.

Assembly takes about 15-20 seconds.

It comes with functional brake lights and turn signals.
The Mazda Suitcase car is powered by a 40cc two stroke motor. Fuel capacity is enough for approximately 2 hours of driving. The exhaust exits through a silencer and out through a small hole in the rear of the suitcase.

The front chassis, forks and handle bar assembly.

The rear chassis and drive axle with differential.

The rear brake is a small caliper and rotor. Just enough to keep you out of trouble.
Contact Road///Race Engineering
13022 La Dana Ct.
Santa Fe Springs, Ca. 90670
Tel (562) 777-1522 Fax (562) 777-1562
Last updated 7/02mw