Peak Performer
Street Power Magazine 8/97
Reprinted with Permission


One of the most prestigious rallies in the world is the Pikes Peak Hill Climb held in Colorado every July 4. Its grueling 156 turn course stretches across 12.42 miles to the summit at 14,110 feet. At that altitude, the air is thin enough to make it difficult for humans to breath. you can imagine what it does to cars.
Conquering the Peak is no simple task, and to do well takes a combination of experience, skill and determination. Road/Race Engineering from Huntington Beach, California has been to the Peak and come away as record holders. In 1996, Kristof Huszti's Mitsubishi Eclipse Turbo, prepared by Road/Race Engineering, took the two-wheel-drive record away from Rod Millen, who had set it in a Hyundai Scoupe a few days earlier. Huszti's time of 13:04.03 was 12 seconds ahead of Millen's and a significant in his - and Road/Race's.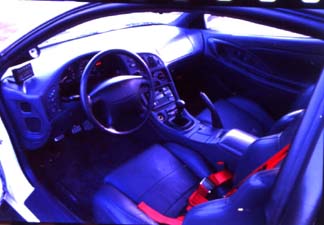 So what do the performance experts at Road/Race do when they're not hill climbing?
The white Eclipse you see here is a good example. Owned by Mario Loria of Westminster, California, it at first appears to be a lesser, slightly warmed-over Eclipse. Obviously lowered, with nice wheels and tires, one could assume those and the GReddy exhaust were the only mods made to this particular GSX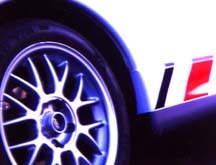 Obviously lowered, with nice wheels and tires, one could assume those and the GReddy exhaust were the only mods made to this particular GSX. But there is a visual clue to more power under the hood in the form of small red, silver and black stripes on the rocker panel. Not an extraneous decoration, these are Road/Race's colors, and are the only hint modifications to this car far surpass the superficial.
Mario bought his Eclipse after learning the aftermarket potential of the vehicle. After his purchase, he contacted Mike Welch at Road/Race and work began. The first stage was simple enough: The stock air box was swapped for a K&N performance air filter, and exhaust flow was freed up with a GReddy cat-back system.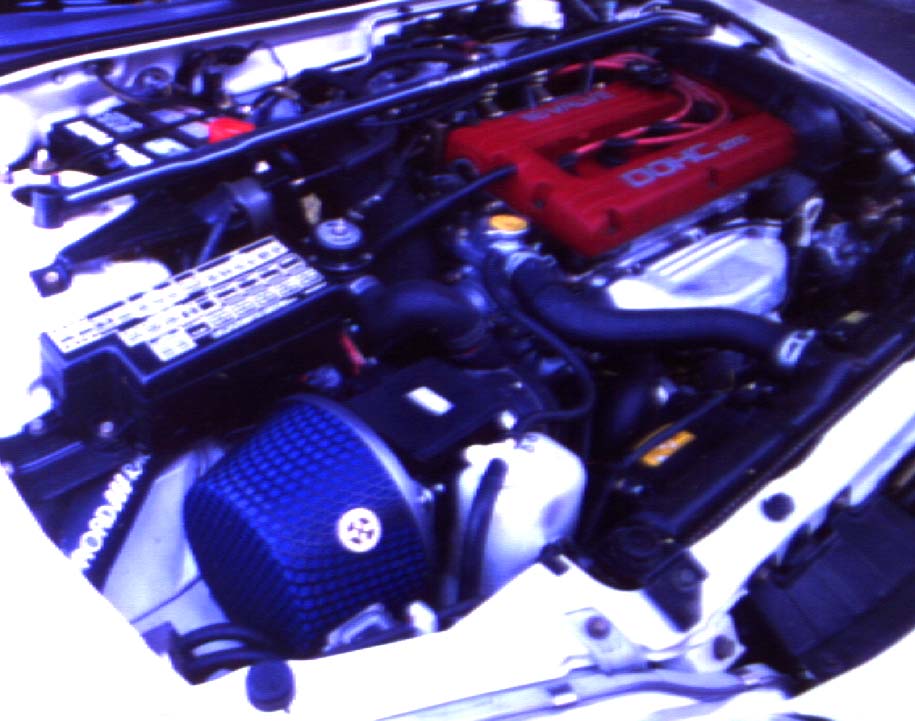 The next stage consisted of slightly more involved modifications. A GReddy S-type brow-off valve was substituted for the stock unit (which are notorious for leaking), and allowed higher maximum boost. A manual boost controller was installed in the cockpit and a GReddy graduated white-faced boost meter was mounted on the A-pillar.
But it still wasn't enough. The stock intercooler on the Eclipse is very small, and tucked in front of the right front wheel. This was removed and replaced with a larger, more efficient unit in the same location. Bigger intercooler pipes were fabricated by Road/Race. The bumper was modified to allow more air into the intercooler, and the fender well liner was slotted to allow air to exit more quickly, further enhancing the efficiency of the intercooler. Because the engine was getting more boost and therefore more fuel the ignition was upgraded slightly with Magnecor 8.5mm spark plug wires and NGK racing plugs to help avoid detonation when the boost was cranked up.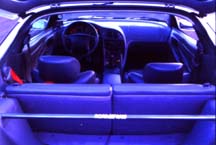 The next step involved chassis modifications to help improve chassis stiffness and therefore handling. Road/Race installed their upper strut tower braces in the front and rear, supplementing the front with an extra bar that connected the two lower strut mounts. With more power comes higher speeds, along with an increased awareness of safety. Schroth harnesses were installed as a result. Finally, a turbo timer was installed to keep the turbo from cooking itself.
By this time, the stock turbo was stretched to the limit. Road/Race substituted in a much larger TD05-16G Mitsubishi turbo, which provides about 20 pounds of boost. The compressor housing and exhaust housing were both ported along with the exhaust manifold to maximize exhaust flow. Since the bigger turbo was capable of much higher boost than the stock unit, a GReddy PRofec fuzzy logic boost controller was installed to keep better track of boost. An air fuel meter was also installed in the cockpit to keep Mario apprised of his engine's condition.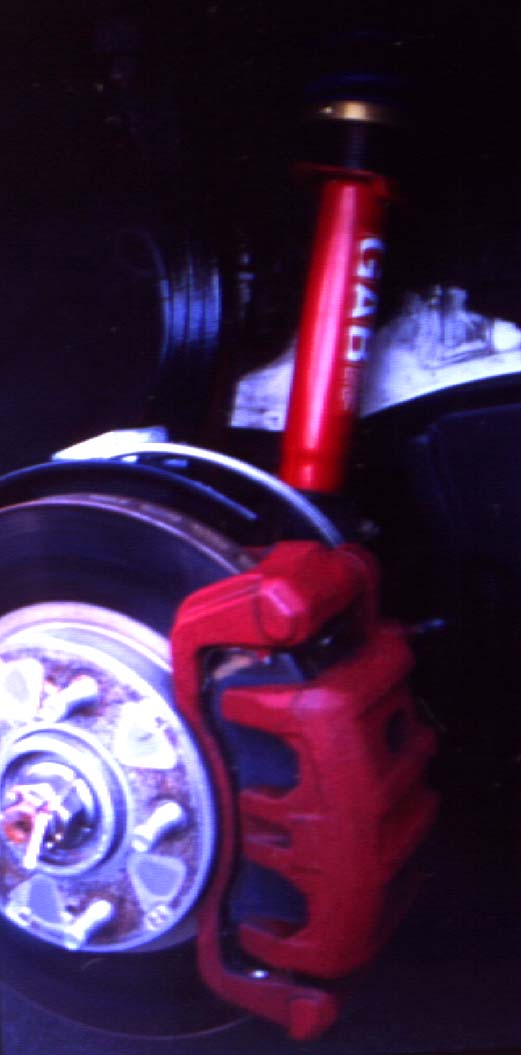 The suspension setup was proving woefully inadequate for the kinds of speeds the Eclipse was capable of. Road/Race modified a set of GAB Super HP shocks to be used as an adjustable coil-over setup. Race springs were modified for more travel, and TSW Hockenheim R wheels wrapped in 225/45ZR-17 BF Goodrich tires were put on all four corners. The brakes were supplemented with Porterfield carbon-Kevlar pads and stainless steel braided brake lines.
By now, the stock clutch had met its match, and was replaced with a Clutch Masters full-face Kevlar clutch and pressure plate. The in-tank fuel pump was upgraded to a higher-flow unit.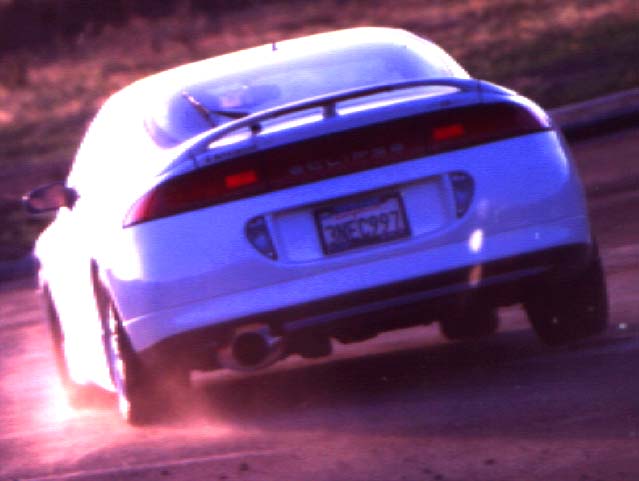 Because the car is all-wheel drive, it is impossible to dyno. However, based on front-wheel drive cars with similar modifications, Mike from Road/Race estimates power in the 320-hp range. More importantly, the car is not unusable for the street. The ride is firm, but hardly bone jarring. Although the bigger turbo does take a little while to spool up, its not as leggy as we expected.
And when it comes on, watch out. The car launches ahead like it was fired out of a slingshot, racing to red line as fast as you can shift. Mario says he wanted a high-performance supercar he could drive every day. With their Peak performance to work from, Road/Race delivered.