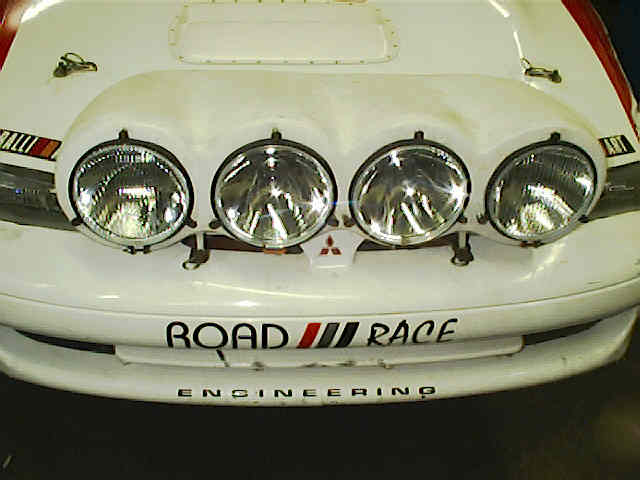 RRE Universal Bare Light Pod

The Road/Race universal Light Pod was developed for rallying, where night vision is critical. This fiberglass pod is designed to fit four 7" diameter rally lights, a light ring and adjustment hardware kit is available to fit PIAA "80 Series" H4 rally lamps without the need to purchase individual housings. The result is a lighting package that is more cost effective and convenient to install and remove than individual lamps. Mounting can be accomplished in a variety of ways to fit virtually any automobile. There is enough material on the sides to trim and fit sloping and flat hoods. Mounting is by brackets that you fabricate that allow you to attach the pod to the hood. Usually angle brackets pop riveted to the pod on one end and a stud pointing downward that drops thru a hole in the hood. Use a Nyloc nut with a washer on the under side of the hood. Some cars work well with a lip on the front of the pod that slips over the front edge of the hood. The pod mounts with two studs at each rear corner. Some guys use a stud at each corner. You can get tricky with Dzus fasteners. Takes a lot of work to make them all line up but it can make install and removal quicker. If your hood has a lot of overhang from the latch or pins, if the hood has been lightened a lot, you may need to have the pod supported to the bumper or radiator support. Use quick release pins or "R" pins in a receiver socket so that hood can be lifted easily.
Size: 35.5" wide across the face, 13" deep, 9.5" to 2" tall (front to back)


RRE Hood Mounted Light Pod $195

Bare fiberglass pod only. Lamps and mounting hardware are not included.
Lights are less vulnerable to Stuffs into embankments doesn't hinder engine cooling much less time to install & remove between stages

Universal-trim to fit

Mounted on a 323 GTX.

Mounted on a Hyundai Tiburon, PIAA 80 Series lenses.

Mounted on an Audi Quattro Coupe.

Mounted on an Escort with Hella 1000s.

Hella 2000s mounted on Hella adjusting brackets, very tight squeeze, they hang off the bottom slightly.