RRE's EVO Fuel Pump Info
The EVO 8 uses a dual voltage fuel pump. The stock pump is what we would call a 160 LPH pump. As we found out a long time ago, if you increase the voltage to the fuel pump with better and more direct wiring, it will flow more. Mitsubishi is doing the same thing here. When demand is low, they run the fuel pump voltage through a resistor. When fuel demand is higher, the ECU triggers a relay to run voltage straight to the pump instead of through the relay.
This same circuitry allows the use of much larger upgrade pumps with out adversely affecting idle and part throttle air fuel ratios. On DSMs, when guys would run a Supra or Walbro 255 lph pump on, they would run too rich at low fuel demand times. They would have to run an aftermarket higher flowing fuel pressure regulator. EVOs seem to get away with out needing this and this additional circuitry seems to be why.
Here is how Mitsubishi officially describes it:
---
FUEL PUMP CONTROL

•

A relay circuit has been added in order to supply the power for actuating the fuel pump directly from the battery. This system is the same as the one used on the 2.0L engine (4G94) of the Lancer.

•

A control function has been added to change the fuel discharge volume of the fuel pump in two stages in accordance with the engine load. When the load on the engine is low if the fuel consumption volume is also low, this control actuates the fuel pump at a lower speed. As a result, the fuel return volume decreases, reducing the discharge of fuel vapors.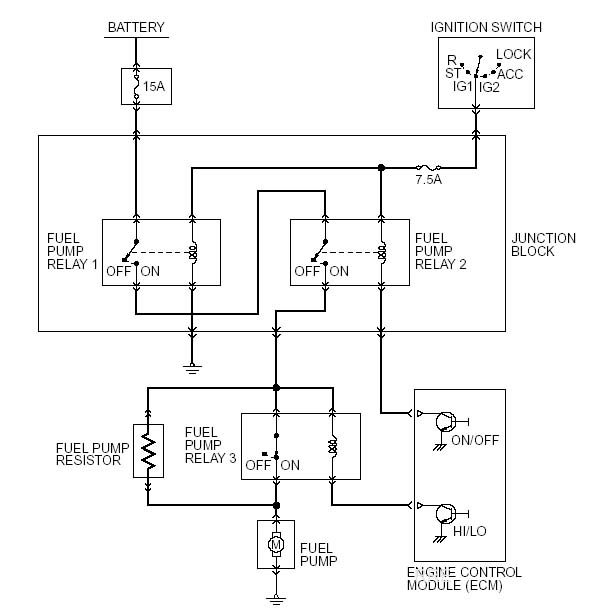 DESCRIPTION OF FUEL DISCHARGE VOLUME CONTROL

When the load on the engine is low, the engine control module (ECM) turns the power transistor ON,

which causes the current to flow through the coil of the fuel pump relay 3. Accordingly, the contacts of the relay open, causing the current to the fuel pump to flow via the fuel pump resistor. Because the resistor drops the voltage of the current, the supply voltage to the fuel pump decreases. As a result, the pump speed decreases, thus reducing the fuel discharge volume of the fuel pump.

When the load on the engine is higher than the prescribed value, the ECM turns OFF the power transistor, which causes the contacts in fuel pump relay 3 to close. This eliminates the voltage drop by the resistor. As a result, the pump speed increases, thus increasing the fuel discharge volume of the fuel pump.

13022 La Dana Ct.

Santa Fe Springs, Ca. 90670

Tel (562) 777-1522 Fax (562) 777-1562
Last updated 3/03mw