Tech Tips
First off, we aren't claiming that 1994 Eclipse GSXs are readily available for under $10,000 - we could only be so lucky! There are plenty of slightly older Eclipses that are still mechanically identical to the '94 model though, and you could still get lucky. The first generation Mitsubishi Eclipse (and Eagle Talon and Plymouth Laser) was a technological powerhouse when it debuted, and is no slouch even today. Compared to the second-generation Eclipse (1995-1999), the earlier cars are lighter, and have more potential for bolt-on power. Mike Welch of Road/Race Engineering says that despite the lower output of the first-generation cars (195 hp vs. 210 hp.) they had a better head with larger ports and a larger turbo and therefore more potential.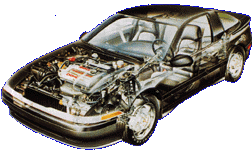 There were severe. mechanical updates during the Eclipse's run, the most obvious of which was the switch from pop-up to fixed headlights in the 1992 model year. Other, more subtle changes happened mid year, so you have to check the build date on the door jam to be sure what you are getting. The first significant change came in May 1991, when the rear axles were beefed up. The stronger axles can be identified by the fact that they bolt to the rear hubs with four bolts. The four-bolt rear axle is preferred by drag racers. In May 1992, the Eclipse GSX got larger front brakes with two-piston calipers. Previously, the front wheel drive and all-wheel drive turbo models all had the same brakes. At the same time, the turbocharged engine got a lighter crank and rods, and a block-strengthening girdle connecting the main bearing caps. The transmissions on both turbo models also got stronger.
All of the all-wheel drive Eclipses and Talons were recently recalled for a problem with leaky transfer cases. There have also been recalls on the timing belt and 02 sensor, so you should cheek to see that these recalls were taken care of. Welch also pointed out a strange new problem he has started to see on older Eclipses. Apparently there are three capacitors on the ECU that can leak a sort of acidic goo onto the circuit board, causing it to fail. Usually it attacks the fuel pump circuit first, causing the fuel pump relay (under the dash)
to click on and off rapidly. If you hear this on your test drive (it can be intermittent, and sometimes only happens when cold), factor in the price of a new ECU.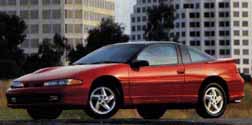 With the number of fast Eclipses and Talons that have graced these pages, we hardly need to point out their potential. Unlike the other all-wheel drive turbo cars in this list, the Eclipse/Talon twins are common enough not to be a mystery to your average technician, a definite plus if you don't live near a specialist.
Classified
1990 MITSUBISHI ECLIPSE GSX turbo, AWD 5-speed, 2.0L, DOHC, Fully loaded; power windows, locks, air-conditioning, factory alarm, tilt steering, alloy wheels, New tires (Dunlop), 89K miles...Well Maintained... runs great. Asking $4800 OBO. Rohnert Park, CA
1991 MITSUBISHI ECLIPSE GS Turbo Black Grey FOOD, 5-speed, AC, PW, PL, Cruise, ABS, Rebuilt tranny, new clutch, struts needs nothing and runs perfect. $5,499 Sunnyvale, CA
1990 MITSUBISHI ECLIPSE GSX All wheel drive turbo. PW, PL, PS, AM/FM/CASS/CD Leather, Color coded wheels, new clutch, new suspension, lifetime brakes, and a barrel of fun included!$5,995. Pittsburgh, PA

| | | |
| --- | --- | --- |
| 1989 MITSUBISHI ECLIPSE GSX | | |
| Kelly Blue Book | : | 1990 Talon TSI AWD: $7350 |
| | | 1994 Eclipse (base) : $9425 |
| | | 1994 Eclipse GSX : $12500 |
| Engine: | | |
| Type | : | in-line 4. turbocharged and intercooled, iron block, aluminum head |
| | | |
| Valvetrain | : | DOHC,4 valves per cylinder |
| Displacement | : | 1997cc |
| Bore and Stroke | : | 85.0 X 88.0 mm |
| Compression Ratio | : | 7.8:1 |
| Horsepower | : | 195 @ 6000 rpm |
| Torque | : | 203 ft-lbs @ 3000 rpm |
| Redline | : | 7000 rpm |
| Drivetrain | : | Transverse front engine, All wheel drive |
| Transmission | : | 5-speed manual |
| Gear Ratios | | |
| 1 | : | 3.08:1 |
| 2 | : | 1.68:1 |
| 3 | : | 1.12:1 |
| 4 | : | 0.83:1 |
| 5 | : | 0.67:1 |
| final drive | : | 4.93:1 |
| Exterior dimensions | | |
| Curb Weight | : | 3145 lbs |
| Weight Distribution. F/R | : | 59/41 |
| Wheelbase | : | 97.2 in |
| Track F/R | : | 57.7 in. / 57.3 in. |
| Length | : | 172.4 in |
| Width | : | 66.5 in |
| Height | : | 52.0 in |
| Suspension | | |
| Front | : | MacPherson struts, anti-roll bar |
| Rear | : | semi-trailing arms with toe control and upper and lower lateral links. Anti-roll bar |
| Brakes | | |
| Front | : | 10.0 in. vented discs |
| Rear | : | 10.0 in. vented discs |
| Wheels and Tires | | |
| Wheel size | : | 16 x 6 in. |
| Tires | : | 205/55-16 |